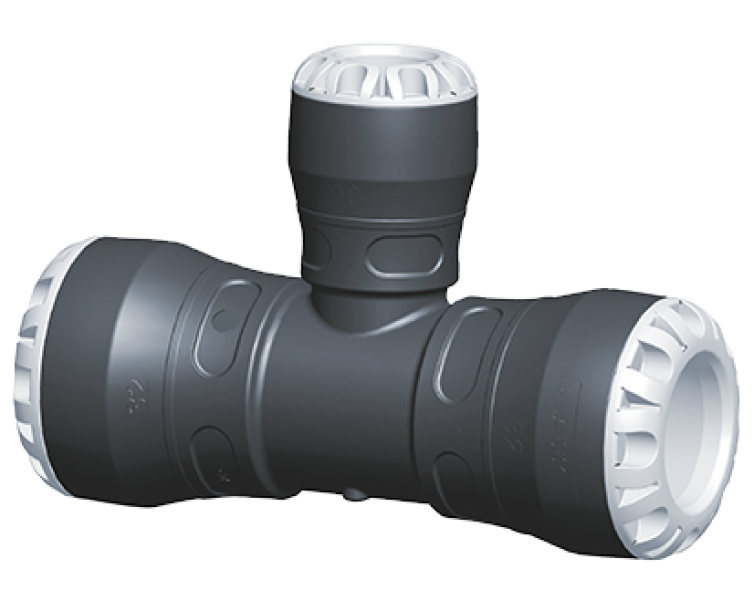 Plasson Series 1 Reducing Tee
Code:
3505
Provides a branch off pipe mains within OD range 20mm - 63mm to a smaller diameter branch.
Pressure fittings for use in plumbing, rural and civil applications
Fast and simple installation without tooling on PE pipe 20mm – 63mm
Compliant with ASNZS4129:2008 Fittings for Polyethylene Pipe for Pressure Applications
PN16 rated
Plasson Series 1 pushfit fittings are made from high-grade polypropylene copolymer for increased strength, impact and chemical resistance. Split rings are made from hard wearing acetal (POM) and "o" rings and seals are made from NBR.
ENQUIRE NOW
Product code
3505.25.20
Nominal OD (mm)
Size (mm)
25mm x 20mm x 25mm
Coupling
Product code
3505.32.20
Nominal OD (mm)
Size (mm)
32mm x 20mm x 32mm
Coupling
Product code
3505.32.25
Nominal OD (mm)
Size (mm)
32mm x 25mm x 32mm
Coupling
Aesthetically designed product
Compact and attractive design makes Plasson Series 1 ideal for the plumbing market, where space is limited and appearance is crucial.

Assembly tools not required
Simple push fit assembly.

Compact size
Can be assembled in confined spaces.

Full end load resistance performance
No need to restrain joints.

50 year service life
Correctly designed and installed Plasson Series 1 fittings will satisfy the 50 year service life requirement of the NZ Building Code, clause B2.3.1 (a).

Tamper-resistant design
Ensures system integrity.

Compliant
Complies to AS/NZS 4129 Fittings for polyethylene (PE) pipes for pressure applications. License No. SMK02018.