Case Study - Hamnak Pipeline, Otago
Case Studies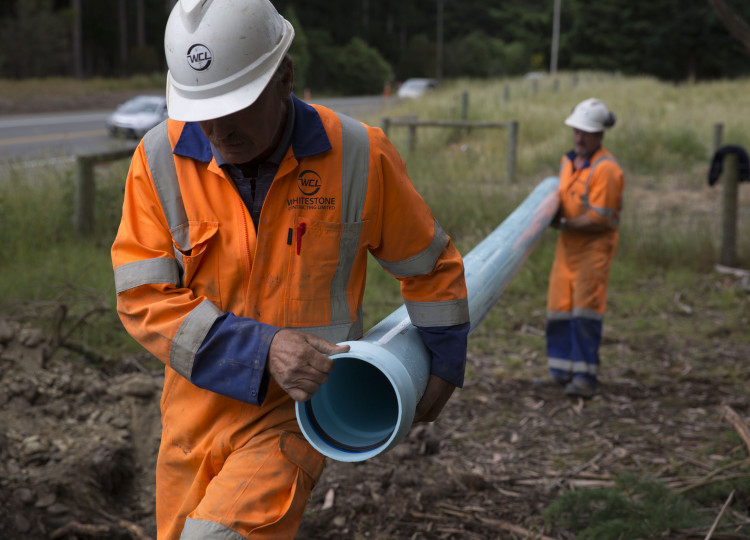 Overview
The Hamnak Pipeline Project (formally the H2Our Health project), in New Zealand's Waitaki District, was successfully undertaken in 2017-2018 to connect Oamaru's water reticulation with the Herbert/Waianakarua and Hampden/Moeraki water supplies.
Objective
The objective was to install a new pipeline that would deliver drinking water to over 1300 permanent residents of these communities and was fully compliant with Drinking-water Standards for New Zealand (DWSNZ).
Achievements
This was a landmark project for Waitaki District Council as the Asset Owner and Principal, Whitestone Contracting Limited as the Head Contractor and Iplex Pipelines NZ as the pipeline manufacturer. Nearly 34 kilometres of PVC-O pressure pipes in DN200, DN150 and DN100 sizes were utilised in this pipeline - making it the longest continuous PVC-O project in New Zealand's history. Two booster pump stations were also built and commissioned as part of the contract. The final agreed alignment for the pipeline required extensive consultation and approval from more than 42 landowners, along the pipeline
route.

Waitaki District Council achieved the highest return for ratepayer dollar by using PVC-O compared to other available pipeline materials, in terms of hydraulic efficiency, strength and impact properties – while achieving a fully conforming cost-effective tender. The tender allowed for alternative materials such as PE100, however PVC-O was the material of choice for the Contractor, as it was lighter than conventional PVC and PE100 pipes of similar diameters and pressure classes – which would maximise installation efficiencies in terms of lay rates & speed of reinstatements.
Construction commenced in late July 2017, with completion and successful commissioning in September 2018, on time and to budget. This was a remarkable achievement given wetter-than-normal ground conditions over two winters and disrupted
land access along the pipeline route from a Mycoplasma Bovis detection in the South Island. Waitaki District Council took ownership of a robust and durable pipeline asset installed to the highest standard. The quality of drinking water delivered by this pipeline meets DWSNZ.