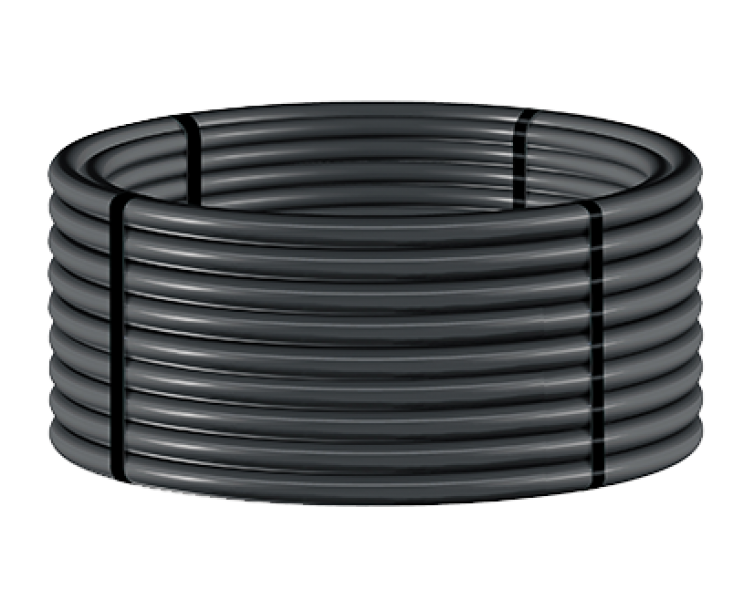 Blackline HP PN20 & PN25 PE100 Pressure Pipe
Code:
3500 B
The BLACKLINE HP system is a range of high pressure polyethylene pipe and ductile iron fittings designed to offer a flexible pipeline solution for water reticulation pipes operating either up to 20 bar, or up to 25 bar. BLACKLINE HP pipe is manufactured from tough and durable High Performance Polyethylene, in metric OD diameters 63mm, 90mm and 110mm and coil lengths 50-metre and 100-metre
PE100 is lightweight, strong and flexible and a popular material for rural water supply
Coiled pipe is more efficient to install on farm
20 & 25 Bar pressure rating
Suitable for in-line bloat treatment systems
Can be used with Blackline HP Ductile Iron (D.I) fittings
ENQUIRE NOW
Efficient
Supplied in 50-metre and 100-metre coils, using BLACKLINE HP pipe reduces the amount of expensive and time consuming joints required.

Easier Installation
The BLACKLINE HP (20-bar & 25-bar) high-pressure pipe and Ductile Iron (D.I.) fittings system offers an affordable and easy to connect pipeline choice.

Bloat Treatments
RURAL BLACK is suitable for use with in-line bloat dispensing systems.

Fittings Compatibility
BLACKLINE HP mechanical fittings are easy to use and readily adaptable to either flanged or threaded joints, for quick coupling to other types of pipes, pumps and valves.

Economical
BLACKLINE HP is manufactured from flexible PE100 making it cheaper and easier to install than rigid pipes that require costly fittings and thrust blocks for changes in pipeline direction.

Durable
High Performance Polyethylene is a tough pipe material designed to provide a long service life.

High Quality
BLACKLINE HP pipe is manufactured and tested to AS/NZS 4130: "PE Pipes for Pressure Applications"