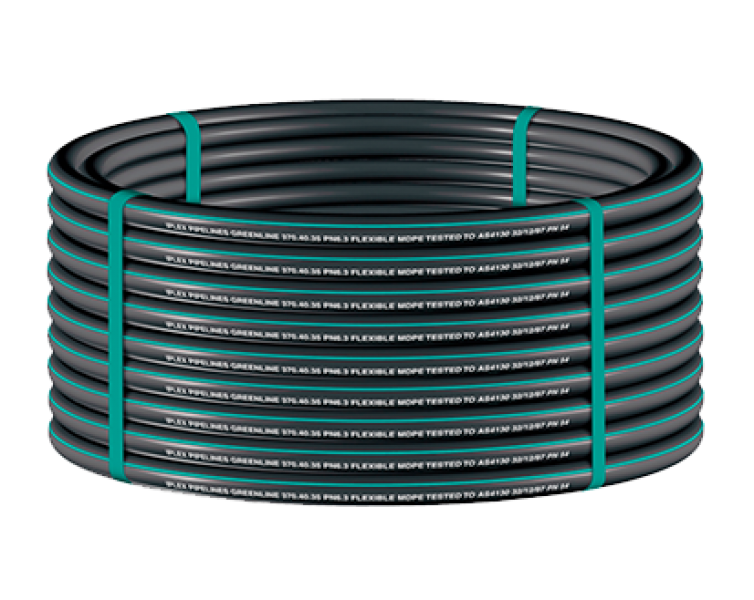 Greenline PE100 Pressure Pipe
Code:
370
Iplex Pipelines' GREENLINE is a metric OD diameter polyethylene pipe (PE) manufactured to international standards. Polyethylene (PE) is a popular material for rural water reticulation, being lightweight, strong and durable. GREENLINE is a pipe system that has been specifically developed to suit today's modern farming practices. It is a reliable, economical system which maintains a consistent pressure rating across a range of pipe diameters.
Other benefits include:
Large Bore - 30% better flow than LDPE on average
Designed specifically for high demand dairy requirements
Three permanent green stripes for instant identification
Ideal for pumped or gravity systems on flat to gently rolling country
Suitable for in-line bloat treatment systems
Uses the technically superior PLASSON range of compression pipe fittings
ENQUIRE NOW
Bloat Treatments
GREENLINE is suitable for use with in-line bloat dispensing systems, based on testing in accordance with ASTMD 1693 "Environmental Stress Crack Resistance".

Fittings Compatibility
The GREENLINE system is easily connected to existing high density (HDPE) and low density (LDPE) polyethylene pipes as well as PVC and GWI systems, using threaded fittings or a PLASSON Universal Coupling (code 2512).

Total System
GREENLINE, when used in conjunction with our comprehensive and technically superior range of PLASSON compression pipe fittings, builds a total system.
Range
GREENLINE is available in 3 different coil lengths (50, 100 and 200 metres) to suit a wide range of applications.

High Quality
GREENLINE is manufactured in New Zealand by Iplex Pipelines using a Quality Management System accredited to AS/NZS ISO 9001:2008. GREENLINE is tested to AS/NZS 4130:1997 - "PE Pipes for Pressure Applications".

Superior Performance
On average GREENLINE transports 30% more litres per metre and has a larger bore size compared to traditional LDPE given the same hydraulic gradient.

Consistent Pressure
GREENLINE is a reliable and economical system that maintains a consistent pressure rating across a range of pipe diameters. GREENLINE is rated 9 bar in 20mm and 8 bar in 25mm and 32mm diameters.