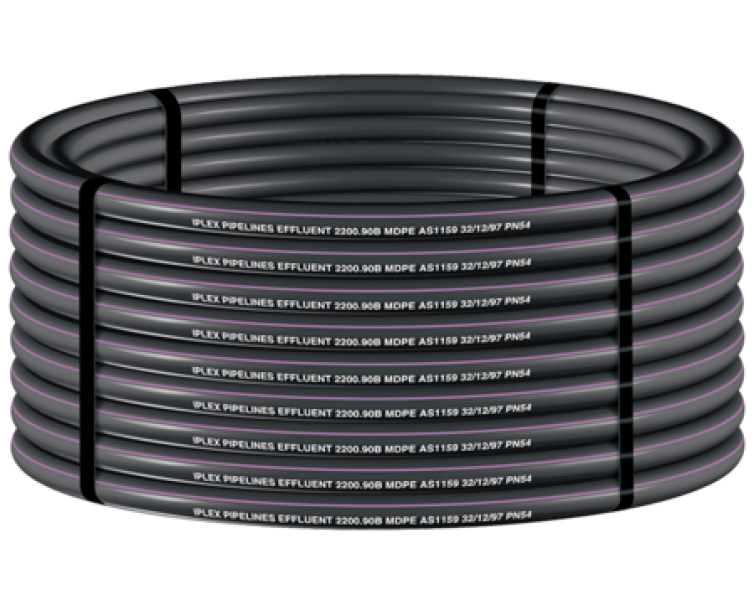 EFFLUENT Polyethylene Pipe
Code:
2200
Iplex Pipelines EFFLUENT pipe is a metric OD sized PE polyethylene (PE) pipe designed specifically for the disposal of dairy shed effluent. This pipe is typically installed above ground and jointed using camlock type fittings. This allows the pipe to be moved easily for discharge to specific paddocks. The robust nature and ease of handling of Iplex effluent pipe has made it an economical and effective choice for effluent dispersal. Other benefits include:
Economical & Efficient
Lilac tri-stripe for instant identification as non-potable water pipe
Good durability as effluent drag hose
Iplex also manufacture a lilac coloured PVC pressure pipe as an effluent main line alternative.
ENQUIRE NOW
Easy to Install
Iplex PE effluent pipe is easily installed and lends itself to efficient relocation. Rubber ring joint PVC effluent pipe is quick and easy to join.

Proven
Iplex PE effluent pipe has been well proven on New Zealand dairy farms.

Fittings Compatibility
Iplex effluent pipe is compatible with other PE and PVC pipeline systems through the use of threaded and solvent cement joint fittings and camlock type fittings.

Versatile
Iplex effluent pipe is available in a number of diameters and coil sizes. It is compatible with camlock fittings and PLASSON fittings. This range offers an effluent pipe solution for most applications whether it be used as a drag hose or as a main line. Iplex lilac coloured PVC effluent pipe allows installation without the need to handle large coils of PE pipe.

Long Life
Iplex effluent pipe is manufactured from tough PVC and Polyethylene for a long service life.

Economical & Efficient
Above ground installation of Iplex Pipelines polyethylene pipe is an efficient and economical solution to most effluent disposal needs. Iplex lilac coloured PVC effluent pipe provides a large bore for hydraulic efficiency.

High Quality
Iplex Pipelines PE effluent pipe is tested to AS/NZS 4130:1997 - "PE Pipes for Pressure Applications". Iplex PVC effluent pipe is dimensionally conformant to AS/NZS 1477 PVC pipe and fittings for pressure application Series 1.

Visible
Three permanent lilac stripes on Iplex PE and a solid lilac colour on PVC effluent pipe ensure instant identification.