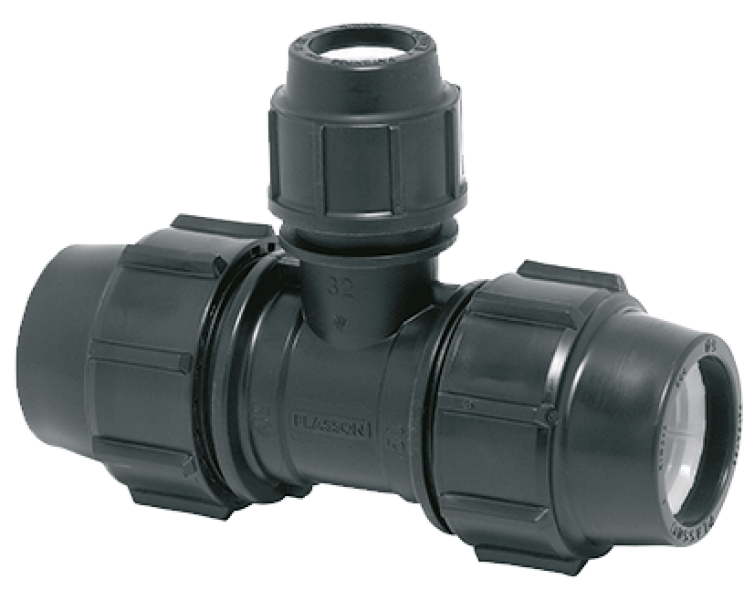 Plasson Compression Reducing Tee 90º F&F&F
Code:
2505
Provides a branch off PE pipe mains within OD range 25mm - 75mm to a smaller OD branch.
Plasson line 7 mechanical fittings are made from high-grade polypropylene copolymer for increased strength, impact and chemical resistance. Split rings are made from hard wearing acetal (POM) and "o" rings and seals are made from NBR.
Pressure fittings for use in plumbing, rural, civil and mining applications
Compliant with ASNZS4129:2008 Fittings for Polyethylene Pipe for Pressure Applications
Majority of range PN16 rated
ENQUIRE NOW
Quality
Manufactured and tested to AS/NZS 1460 "Fittings for polyethylene (PE) pipe for pressure applications".

Durable
Manufactured from a high impact resistant polypropylene material.

Compatible
Can be used with GREENLINE, REDLINE™, RURAL BLACK, BLACKLINE PN16 and ALKATHENE™ 20mm and 25mm diameters.

Efficient
Forms a fast, end load resistant, watertight joint, with no bore restriction.
Easy to Use
Rapid assembly, push-fit and tighten. PLASSON fittings from 20mm to 63mm diameter do not require to be disassembly before making a connection.

Versatile
The range allows joints to be formed with other pipe materials by way of male and female couplings with BSP threads or PLASSON Universal Coupler (code 2512).