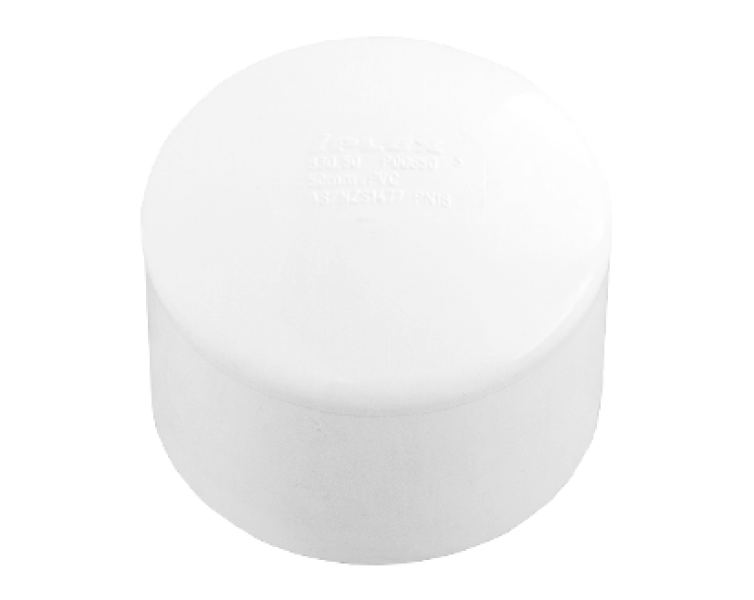 Novakey PVC-U Pressure Plain End Cap Solvent Cement Joint F
Code:
830
PVC pressure plain end cap, with solvent cement socket for use with Novakey Series 1 Pressure Pipe.
Made from quality PVC-U, complies with AS/NZS 1477, connects using Solvent Cement
Maximum allowable working pressure 15mm-50mm = 1800kPa PN18, 65mm-100mm = 1500kPa PN15, 150mm-200mm = 1200kPa PN12
This is a general guide only, if in doubt, check the pressure rating on the fitting or contact Iplex Pipelines for assistance
ENQUIRE NOW
Transport and Installation costs
Low specific gravity and a range of jointing techniques can deliver reduced transport and installation costs.

Chemical resistance
High chemical resistance enables PVC-U to withstand highly corrosive media.

Long Service Life
Resistance to photo degradation and creep stresses gives a long service life characterised by an excellent aging behaviour.
Reliability
Inertia to electrochemical corrosion ensures good reliability in conveying potable and service water

Flow capacity
PVC-U pipes and fittings offer a flow capacity greater than metal pipes of the same nominal diameter and ensures constant low pressure losses as a function of time.

Fit for purpose
PVC-U pipeline systems are very suitable for the conveyance of potable water, food and beverages

Impact and Tensile Strength
Excellent mechanical properties characterised by good tensile strength and impact strength allowing manufacture of pipes an d fittings to withstand a service pressure range between 6 and 21 bar.

Compliant
Comprehensive and well tested to New Zealand standards to ensure service reliability of all products designed, engineered and manufactured to the specified construction standards.